Ernesto is a robot created by Lord Boxman to help manage Boxmore. He is an enemy in OK K.O.! Lakewood Plaza Turbo and OK K.O.! Let's Play Heroes.
Physical Appearance
Ernestos are spherical purple robots with black and purple limbs, a black spherical head with a cycloptic eye, and a black tie paired with a matching top hat. Under the hat is a single spike, or a comb-over hairstyle as revealed in "Let's Watch the Boxmore Show". He also has very sharp, white fingers.
Personality
They are so bureaucratic that they're unable to do anything without filling out the proper paperwork first. They have also never taken vacation days. Ernestos are usually seen chatting around the office cooler. Though not used to fighting, Ernestos are surprisingly powerful in battle when given the proper motivation.
Abilities and Powers
Appearances
Pilot
Season 1
Season 2
Games
Trivia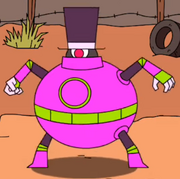 Galleries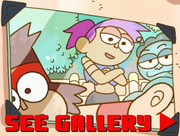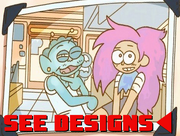 References