"Let's Be Heroes" is the 1st episode of Season 1 of OK K.O.! Let's Be Heroes and the 1st episode overall.
Synopsis
When K.O. tags along with his mom to work, he discovers the convenience store next door is his key to becoming a great hero.[3]
Plot
TBA
Characters
Gallery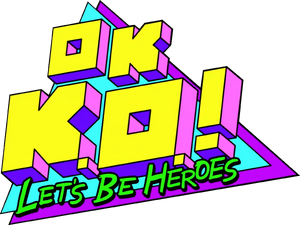 Transcript
To see gallery page, See Here
Videos
Trivia
On the back cover of KO's hero card book, a sticker of the Cartoon Network logo can be seen.
While KO was wondering how he could become a hero, a buff KO striking a heroic pose can be seen. This is a reference to the first OK K.O.! short, "KO."
The red text that appears when the main characters appear for the first time is a homage to Kill la Kill which also used big red text to identify characters names and roles.
KO states at one point during the episode, "Everything's coming up KO!", a clear reference to Milhouse Van Houten's catchphrase from The Simpsons, "Everything's coming up Milhouse."
The flame gauntlets KO uses look similar to Ruby's from Steven Universe, a show Ian had previously worked on.
References
Ad blocker interference detected!
Wikia is a free-to-use site that makes money from advertising. We have a modified experience for viewers using ad blockers

Wikia is not accessible if you've made further modifications. Remove the custom ad blocker rule(s) and the page will load as expected.